Remote your AVR: Help for App Version 4.0.0.0
Settings:
At first Appstart the Settings dialogue is shown, unless you can also click onto the Settings Button :
Enter the IP-Adress of your AMP and/or Blu Ray Player.
You can also use search functionality by clicking "search".


Your Receiver/Blu Ray Player must be turned on to find the device.



Check "Automatically connect at Appstart" to reconnect to the AVR if the App was closed.
Check "Disable Volume Slider", to prevent abuse of the Volume Slider.
Uncheck "Pro Mode", to enable Pro Mode here you can manually send commands to your AVR
Check "Dark Theme", to toggle App theme (restart required).

How to use the App: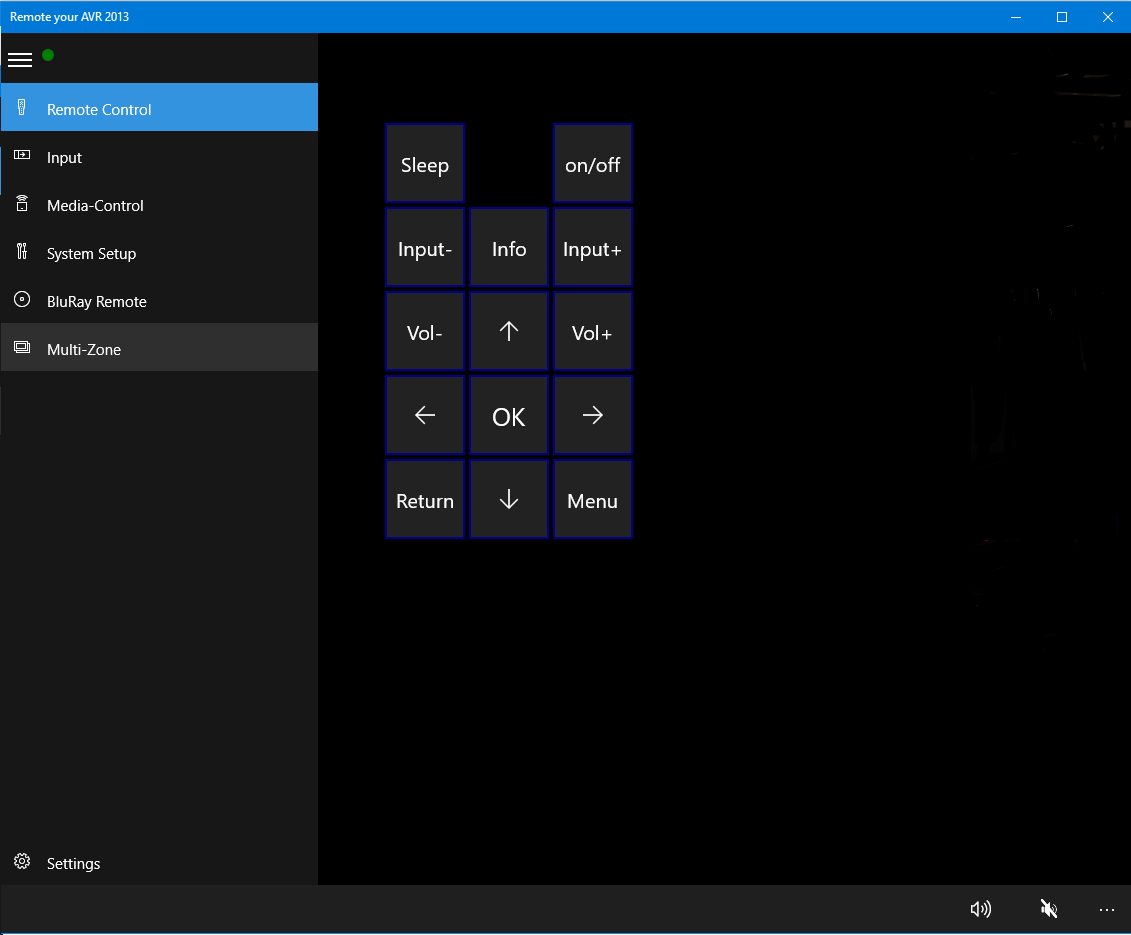 Volume:
At the left bottom you have shortcuts for Connect/Disconnect, Volume and Mute.
Remote Control:
This up to three sections are shown if needed.
You can control your AMP like with your Remote Control.
Use Input+/- to select your sound input channel or
or use arrows (UP,Down,Right,Left) to navigate through menus.
You can find Play, Stop etc. for Ipod/USB control and Numbers/Band for Tuner control.
Input:
Select the input device directly.
Media Control:
Only for USB/Network and Net-Radio
Control Song which is played, use "Return" and "<-"/"->" keys to navigate.
System Setup:
Select your Listening Mode, the current Mode is shown under the selection menu.
Turn on/off Virtual Speakers, Phase Control, PQLS and Key Locks.
And select your diverent MCACC Presents.
Control the Volume of every Speaker, separately.
Only active Speakers are enabled.
Blu Ray Remote
The Blu Ray Section simulates the Remote Control of your Blu Ray Player.
(By pressing a button the App will automatically connect to the Player and send command)
Multi Zone:
Control your Amp's Zone 2/3 or HD Zone Input and Volume.
Questions? Use our:
zum Kontaktformular